Sandra Bullock Celebrates Oscar Win With a Burger
Sandra Bullock on Lipo and Burgers
Sandra Bullock started her 2010 off right by winning the best actress Golden Globe for her performance in The Blind Side. Last night, the humble 45-year-old comedic actress continued her winning streak. Looking stunning in gold, she took home the Oscar for best actress.
Nervous about wearing her form-fitting gown, Sandra joked about readying herself for the big night telling The Today Show, "I do believe some liposuction is in order, a very strict diet regime, and I will acquire a very light English accent." Joking aside, Sandra's hard work paid off: exercising nearly every day, doing Pilates, plyometrics, strength training with weights, and kickboxing, have helped the Academy Award-winning actress stay lean and fit. Coupled with her mostly healthy diet (except for her one cheat day a week), Sandra seems like one of the fittest celebs in Hollywood.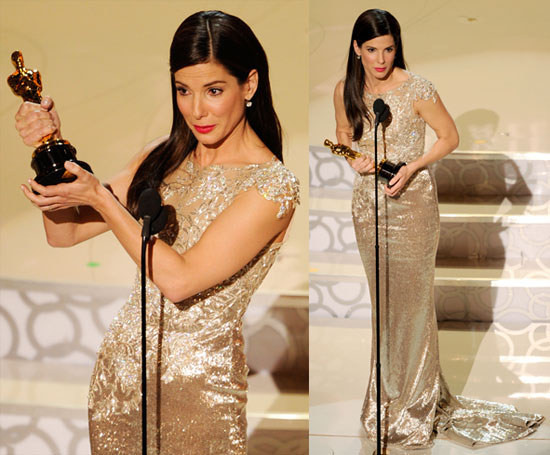 And to celebrate her first Oscar, Sandra told reporters in the press room after the show, "I just want a burger and I just want some food. I want to sit down, take the shoes off. I want to eat and not sweat it and not worry the dress will bust open. I just want to relax and . . . I'd like a nap, too." I bet nerves coupled with the desire to look amazing in her gown made it difficult to eat a regular diet, so now that the pressure's off, she definitely deserves to indulge a little. Tell me what's your indulgence? Is it a burger and fries?