Sara Rue Finishes San Luis Obispo City to Sea Half Marathon With Pictures
Sara Rue Proves That Anyone Can Be Marathon-Ready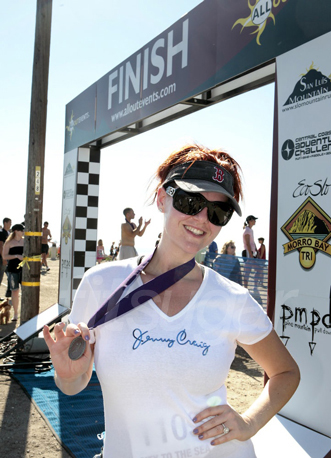 Seven months ago, actress Sara Rue couldn't run a mile, but this past Sunday she crossed the finish line of her first half marathon. The San Luis Obispo City to Sea half marathon is just one of many milestones that Sara hit this year: the actress lost an amazing 50 pounds on the Jenny Craig system and is also planning her upcoming nuptials.
After finishing the race at two hours and 27 minutes, Sara told People that running in the race was empowering: "I feel so happy! It's awesome! Now I understand what people have been saying about having a runner's high. I'm in the best shape of my life." Sara trained for the race over the Summer with her personal trainer Christopher Ross Lane, who ran alongside her for the entirety of the half marathon — talk about motivation. Tweeting after the race, Sara says she took an ice bath and that running commando is "the only way to go" — it seems that Sara forgot her underwear on race day!
If there is something you want to do, whether it's drop 10 pounds or run a marathon, I think that Sara's story is a great source of inspiration. Congrats to you, Sara!
Photos courtesy of Jenny Craig