Sara Rue Loses Over 30 lbs. on Jenny Craig
Sara Rue Losing the Weight on Jenny Craig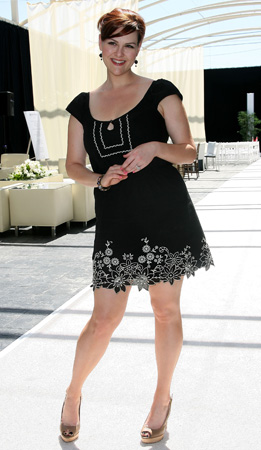 Valerie Bertinelli isn't the only celeb benefiting from the Jenny Craig weight loss system; actress Sara Rue is down 30 pounds in just 12 weeks! Sara — a spokesperson for Jenny Craig — told People Magazine that her goal is to lose 10 more. "The changing of your mind is often the hardest part. Now that I've conquered that, I'm ready for more!"
Sara, who's recently engaged, says weight has always been an issue for her, and was even told that she lost an acting role because of her size. Hearing that news was a blow, and it gave Sara the determination to take back her life. Being on the program has taught her the importance of eating healthy and working out. These days each meal is a balance of the right amount of protein, carbs, fats, fruit, and "lots and lots of veggies."
"The key has been portion control, which has totally helped me not slip up, and has given me the necessary balance to feel good. I'm comfortable with this program, because it's not a diet –- it's a lifestyle change."
Besides Sara, celebs like Valerie Bertinelli, Jason Alexander, and Nicole Sullivan have all found success on this program. I'm curious if any of you have tried it, and what your thoughts are. Please share them with me in the comments section below . . .