Sara Rue Shops For Wedding Dresses After Losing 40 Pounds on Jenny Craig
Sara Rue Brings the Wedding Inspiration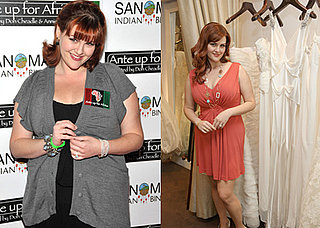 Since many of you are working hard to look your best on your wedding day, I thought I'd share actress Sara Rue's amazing transformation with you. Sara — who is newly engaged — became a Jenny Craig spokesperson back in December, and since starting the program she has lost 40 pounds. Given her new approach to food and the payoff of a fabulous new bod, now seemed like the perfect time for Sara to start shopping for the dress she'll be wearing on her big day. Sara blogged this about reaching such an incredible milestone:
"I remember when I first started this process. 40 pounds seemed so far away and losing it seemed practically unattainable. . . . I was really in a bad place where my relationship with food was so out of control that I really wasn't sure I would ever be able to get it together. And now here I am: five months later, 40 pounds lighter, and most importantly, optimistic and empowered. I still have more to go, but now it's not 'if' I can do it, it's just a matter of 'how long it will take.'
While Sara was lucky enough to get the services of well-known bridal consultant Mark Ingram to help her shop for dresses, we've got Fab's expert eye here to help you with all of your wedding dress needs.
New brides, pay attention! All the Sugar sites will be bringing you tips for the big day. But we want to hear what you've been doing to stay in shape too. Head over to the FitSugar Community and post your wedding workout tips, or, if you're already hitched, how did you get healthy for your big day?