Sarah Silverman Shares Healthy Tips in Self Magazine
Sarah Silverman: "Death Creeps in Through Your Gums"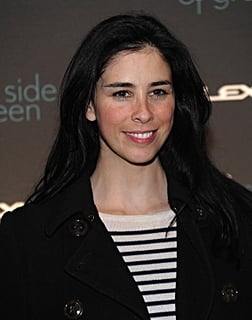 She may have a potty mouth, but Sarah Silverman is one funny lady. The often described "edgy" comedienne's memoir, "The Bedwetter: Tales of Courage, Redemption and Pee," hits stores tomorrow and is full of essays describing her often painful childhood. Sarah describes wetting the bed well into her teens, and having a 16-a-day Xanax habit after her parents' divorce. All of that pain is perhaps why she has developed into such a funny woman, but still seems like she'd be a great friend. In the May issue of Self, Sarah shares her tips for living a healthy life. Here are the ones I loved:
Get moving. "Sweat a little everyday. Organize your apartment, do your laundry, play basketball or nuzzle with another person."
Stay fresh and clean. "Brush and floss your teeth twice every day, angel. Death creeps in through your gums."
There's an app for that. "I've been using this iPhone app Lose It!, which tells you how many calories food has. Having an idea of what I'm putting in my body has changed how I eat."
Comfort first. "Decide if you like something by how it feels to you. Is the sweater soft? Are the shoes comfortable? Worrying about whether something is too trendy or not fashionable will only make you crazy!"