Sauerkraut Health Benefits
4 Healthy Reasons to Reach For Kraut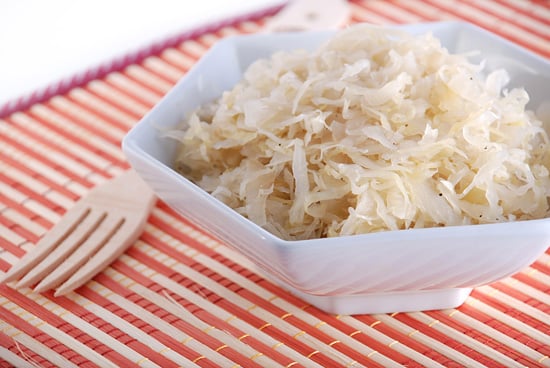 If you only associate sauerkraut with hot dog season, it's time to think outside the ballpark. While this cabbage-based fermented food is definitely an acquired taste, it's time to make it a staple in your kitchen due to all its health properties.
It boosts your immune system: Cruciferous vegetables like cabbage are revered for their cancer-fighting properties. In addition, vegetables in the cabbage family have proven to be some of the best natural sources of defense for breast-cancer survivors.
It helps you debloat: Due to the rich levels of vitamin C and vitamin A in cabbage, kraut boasts anti-inflammatory properties! When possible, choose red cabbage over the green variety, since it boasts even higher levels of these vitamins.
Keep reading for two more healthy reasons to enjoy sauerkraut.
It's packed with probiotics: Fermented foods have been in the news for all their probiotic properties — and their interesting taste! For vegetarians or vegans who want the "good" bacteria in probiotics, sauerkraut is one of your best nondairy options.
It's an easy substitution: The tangy flavor fresh kraut provides is a healthy switch for people who are reliant on loads of condiments. I also like to sub it in for dressing on a green salad for an extra boost of healthy crunch.
Do you love or loathe kraut? Tell me below!