Savasa Weighted Ball
Gear Review: Savasa Weighted Ball
I've used medicine balls for strength training moves, but they tend to be hard to handle — literally. Here's an option you might prefer that's easier to grip because this piece of equipment is soft, like a rubber ball. Savasa Eco Weighted Balls are super soft and squishy, made from non-toxic phthalate-free PVC, so they're also good for Mother Earth.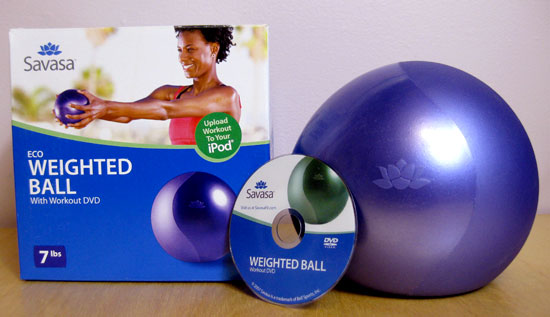 You can order three different sizes: three pound (green, $13), five pound (pink, $15), or seven pound (purple, $17). I have the purple ball, and it's been great for so many different exercises. It's about five inches in diameter, so you can easily hold it with one or both hands. If you're unsure how to use it, don't worry because a 15-minute instructional DVD is included to lead you through an entire workout. My favorite exercise is to lie on my back, squeeze the ball between my knees, and do reverse crunches. The weighted ball makes this move so effective!
This ball has seriously changed the way I strength train. I still love to use dumbbells, resistance bands, exercise balls, and weight machines, but this is a great way to mix up my workouts and strengthen my muscles in different ways.