Save on Calories by Ordering Grilled Items When Dining Out
Smarter Eats: When Dining Out, Get Grilling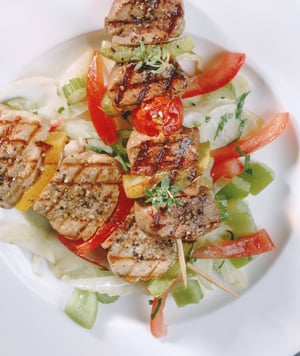 Dining out is a great way to try new foods, hang out with friends, and take a break from cooking. It can also be an easy way to put a glitch in a healthy diet. Many restaurant dishes are laden with hidden calories from butter and oil, which isn't always clear when you order the fish or salad. If you're worried about hidden fats in your dishes, but don't want to look like a high-maintenance diner, stick to grilled menu items.
Chef friends of mine say that grilled dishes tend to be the healthiest in restaurants because less fat is used to cook these dishes. And even though butter or oil is used to keep foods from sticking to the grill, the amount of added fat is much less than compared to dishes that are sauteed or fried. And rather than cook in its own fat, the fat from grilled food tends to drip away. Another bonus: I find that healthier food options like leaner proteins and fresh veggies are usually the only grilled menu items in restaurants.
But just sticking to grilled menu items is not enough to keep the calories from building when dining out. I try to make my experience healthier by sharing an entree or enjoying an appetizer as a main course. I also keep myself from going overboard on the bread basket and will often skip dessert. How do you keep dining out a healthy experience?