Savory Jalapeño Green Smoothie Recipe
Healthy Recipe: Spicy and Savory Smoothie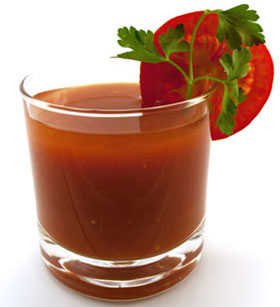 Smoothies are generally easy to swallow, especially the sweet ones. Add a banana and some berries to a blender, and even the pickiest of eaters can hardly resist it — even with spinach and kalebrand> added to the mix. I could sip on fruit-flavored green shakes every day, but I'm also starting to dig some savory swigs as well. Instead of masking the veggies with their seeded garden friends, I'm letting some bold vegetables take center stage with a flavorful jalapeño smoothie from Victoria Boutenko's Green for Life ($19). Ready to see the spicy recipe?

Orion's Lemon Jalepeño Fresca
Green For Life by Victoria Boutenko
Ingredients
1/2 lemon (juice)
4 Roma tomatoes
2/3 bunch of kale
1/2-inch jalepeño pepper
1 small clove garlic
2 cups water
Directions
Pour all ingredients in a blender. Pulse until all vegetables are in a liquid substance. Yields one quart.
Information
Category

Drinks, Smoothies

Cuisine

North American
This delicious drink is almost like a spicy gazpacho in a cup. If you like it hot, like yours truly, add a bit more of the jalapeño pepper to the mix. If you don't like it spicy, leave it out or opt for a bit of bell pepper instead.
The recipe yields one quart, which is enough to make four eight-ounce servings. I like to give my breakfast egg and toast a little kick with a cup of the tomato and kale juice and save the rest for another meal or another day. Flush in flavor, it is also rich in nutritional value. The savory smoothie is loaded with vitamins A, B6, C, K, calcium, iron, fiber, folate, calcium, magnesium, copper, potassium, manganese, and protein. Sounds like it's worth a try, right?