Scarlett Johansson Diet and Fitness Routine For The Avengers
How Scarlett Johansson Got in Superhero Shape For The Avengers
Scarlett Johansson kicks major butt as Black Widow in The Avengers, saving Earth from imminent doom, all while wearing a black catsuit. Between slipping into a skintight costume and unveiling some serious moves against Loki's army, this wasn't a character Scarlett rolled out of bed for. To prep for the physically demanding role, Scarlett worked for almost two months with trainer Bobby Strom and her stunt double Heidi Moneymaker. Keep reading to see how Scarlett got herself in svelte shape for The Avengers.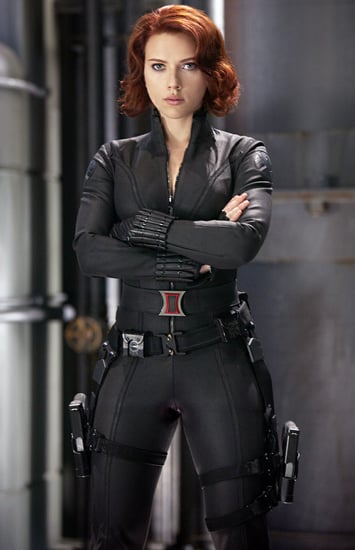 The power of circuits: Strom, who also trained Scarlett during Iron Man 2, says he used a similar training program for her reprisal of this role: 90-minute circuit workouts, multiple times per week. The goal was to get Scarlett ready for those explosive on-screen movements. Strom kept things varied through the use of dumbbells, resistance bands, medicine balls, and TRX; workouts were built around sets of 20, with 25 to 30 reps of each exercise. Strom also had Scarlett doing running intervals, both in and out of the gym. Get in superhero shape like Scarlett did by finishing our full-body circuit workout with weights.
Combative training: One of the first scenes in The Avengers shows Scarlett fighting off multiple members of the Russian mob, something which Moneymaker helped her prepare for. A longtime stunt double in the industry, Moneymaker says she and Scarlett had about six weeks to prepare for the various fight scenes in the movie, using elements of mixed martial arts (MMA) and "hand-to-hand combat and weapons training." Speaking of the role, Scarlett told Vogue, "You get beat up a lot," she says. "It's painful." Get a little MMA into your own life by doing this video workout with former Biggest Loser trainer Brett Hoebel.
An (almost) vegan diet: Scarlett arrived on set already following a healthy diet plan, one that Strom describes as "mostly vegan." He says Scarlett focused on eating several small meals each day. As was the case during Iron Man 2, there was a lot of oatmeal, fresh fruits and veggies, salads, and lean proteins.