Seated Russian Twist
Ab Work: Seated Russian Twist
For strong abs no matter the season, turn to the seated Russian twist. While this ab exercise mainly targets your obliques, your back muscles will be engaged to strengthen and support your spine — extra points if you add weight with a dumbbell or medicine ball! Find out exactly how to do this move below: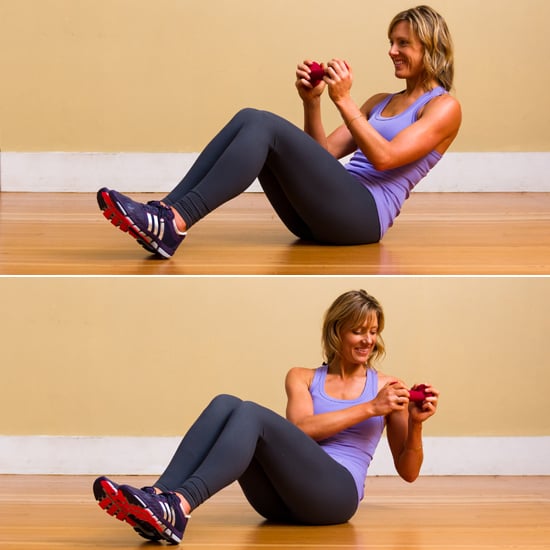 Sit on the ground with your knees bent and your heels about a foot from your butt.
Lean slightly back without rounding your spine at all. It is really important, and difficult, to keep your back straight, but don't let it curve.
Place your arms straight out in front of you with your hands one on top of the other. Your hands should be level with the bottom of your ribcage.
Pull your navel to your spine and twist slowly to the left. The movement is not large and comes from the ribs rotating, not from your arms swinging. Inhale through center and rotate to the right. This completes one rep.
Do 16 full rotations.
To make this exercise more challenging, hold a medicine ball or a dumbbell in your hands with your elbows slightly bent. You can also make the move more advanced by lifting your feet three or four inches off the floor. Conversely, if you have a compromised or injured lower back, this exercise is not recommended for you. Try the bicycle crunch instead.
— Additional reporting by Emily Bibb