Selma Blair Not Concerned With Losing Baby Weight
Selma Blair Not Worried About Her Baby Weight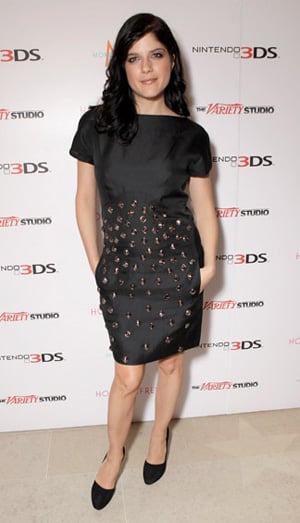 The pressure in Hollywood to bounce back and lose the baby weight sometimes seems like a competition, but one new mom is not playing the game. Selma Blair, known for the movie series Hellboy, my personal fave Legally Blonde, and her latest film Dark Horse, says she didn't have time to hit the gym after having her son, Arthur Saint Bleick, in late July. She told Us Weekly:
"I actually haven't lost any weight since the day I left the hospital. I still weigh the exact same number. I haven't really been focusing on that at all, because I've been running around to different things like Toronto [International Film Festival] and Venice [Film Festival]."
She still looks pretty darn amazing for having had a baby almost eight weeks ago. Her secret? The 39-year-old actress says, "I've been following Alicia Silverstone's The Kind Diet. It helps with my clarity and endurance. In a few weeks I think I'll start getting into [the gym] when things slow down a bit — it'll be Pilates in L.A.!"
I find Selma's attitude refreshing. I don't know about you, but this makes me feel better about wearing my maternity jeans until well after my daughter's two-month birthday!