Shalane Flanagan Interview After Boston Marathon
For Shalane Flanagan, Boston Ends on a Bittersweet Note
Going into the Boston Marathon, it seemed that Shalane Flanagan had the weight of the city on her shoulders. The hometown favorite, Shalane's parents had previously run the historic race, and her sister Maggie was also running it this year. From the get-go, the crowds could be heard chanting Shalane's name, which made the fourth-place finish that much more disappointing for the American runner.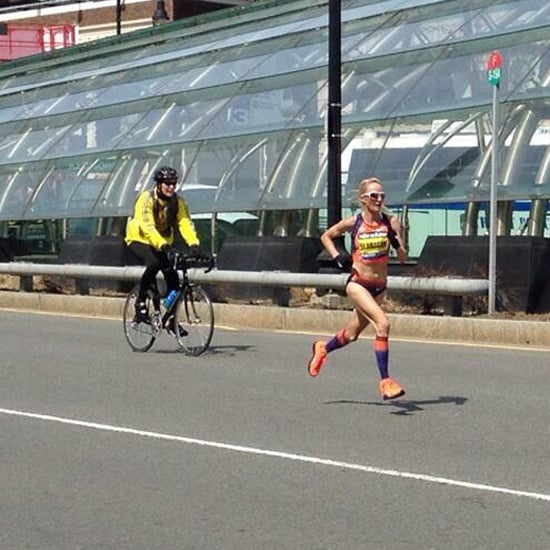 When it was over, Shalane was visibly upset, holding back tears at the finish line, "Running a marathon is an emotional event; you pour yourself into the preparation and race day . . . I dreamt of a laurel wreath on my head but it didn't happen. But dreams are hard."
It wasn't until the last moments of the race that Shalane started to realize a win might not be in the cards for her. While the elite women's pack remained a close crew for most of the race, heading into the city, the front-runners began to make their move. "It [the breakaway] hurt a lot, my legs felt like Jell-O," Shalane said. "I tried to keep my position close but I was suffering . . . sometimes it's just not your day."
And while this defeat may have been hard to swallow for Shalane, it wasn't all bad. She ran alongside good friend and training partner Kara Goucher, who together had the distinct feeling of being "the hometown girls." When asked how it was to finally "come home," Shalane said, "These are the kind of moments as athletes that we dream of, I didn't want it to end." Later saying, "There were a few moments when I got chills, little moments that I will treasure forever."
For those still hoping that an American woman will make it into that first-place spot (the last win was in 1985), don't count Shalane out. At the post-race press conference, she said that while she does feel grateful to have fulfilled this lifelong goal, she will be back, "I still hunger for more. That's part of the beauty of sports, it's a work in progress." She's also happy to take on the weight of the city again, "What's hard about [running] Boston is that Bostonians want it as bad as you do. We want that happen, we want it as bad as you do — we want to be the next Joanie [Benoit]."