Sharon Cherop Tips For Marathons
Race-Day Tips From 2012 Boston Marathon Winner Sharon Cherop
This year's Boston Marathon was brutal. The unusually hot weather caused dehydration, heat exhaustion, and in some cases, heat stroke for some of the 2,000 runners. Amid those grueling temps, Kenya's Sharon Cherop emerged as the women's elite champion, who during a press conference shared what led to her victory on such a challenging day. While almost all of us will never finish a marathon with a time like Sharon's 2:31:50, we can benefit from her race-day tips.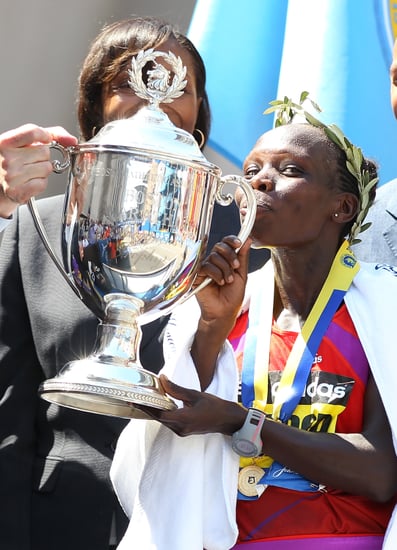 Know the Course
Don't let race day be the first time you see the marathon course. When asked what led to her finish-line success, Sharon said knowing the course made all the difference. This was her second time running Boston, so she knew key places where she could afford to slow down or needed to speed up, and there were no surprises waiting for her around any corner, which allowed her to make that dash around the corner at the 600-meter mark before the finish. The specifics of the course also played out in her training. "Last year I realized there's more downhill than uphill. This time I was training more in downhill." Before heading to your destination, research the course online and make note of any elevation changes, winding paths, or road obstacles. Check forums to see what advice other runners offer about their own experiences there. Once you reach your destination, rent a car or sign up for a marathon tour to see the course up front. Driving the length of those 26.2 miles will provide you with a comfortable edge of knowing what to expect on race day.
See what other factors attributed to Sharon's winning success after the break!
Listen to Your Body
Running a marathon is no joke and it puts an incredible amount of duress on the body. On race day, and also during training, it's important to be aware of how you feel. Yes, you want to cross that finish line, but don't ignore any telltale signs you're body might be giving you. Much has been said about the conservative start the elite women's pack chose to take during Boston, but Sharon remarked that because of the unusually hot weather, it was necessary. "I stuck to a plan. I went into the race knowing I will not do anything that's too much. I wanted to see how my body was going to feel." Sharon was also coming off of a knee injury, which made it even more important that she not push too hard from the start. If you're thirsty, drink. If you start to cramp or feel your legs seize up on you, slow down or walk for a bit. If the weather presents unusual challenges (like it did in Boston), adjust your race. But if you feel like something is really wrong, trust that feeling, stop running, and seek medical attention immediately.
Train Properly
Whether you're an elite, avid, or casual runner, you need to train properly for a marathon. For most, that means starting a regimented running plan four months before the day of the race. You are looking to increase your mileage over time to deal with the endurance a marathon asks of you. Keep in mind that no two marathon courses are the same, so consider adding in training runs that are specific to the course you are running. For Sharon, that meant doing a lot of downhill runs. With a total elevation drop of 310 feet in just the first four miles, Boston's course can be brutal on a runner's knees. After doing your own course research, ask yourself if there is any specific training plan that might help you run the race you're registered for. To help you increase your mileage and build endurance, follow this four-month marathon training plan.