Shawn Johnson Training to Make US Olympic Gymnastic Team
Gymnast Shawn Johnson Dreams of Making the Team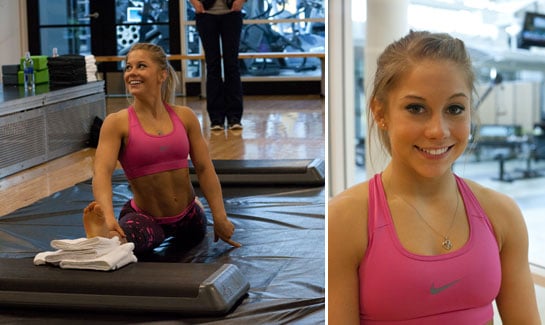 Shawn Johnson never officially retired from gymnastics. Although she toyed with the idea after the 2008 games, she's once again set her sights on the Olympics. But the decision to step back into competition wasn't simple. It took a a self-described "garage sale" wipeout on the ski slopes to end her indecision. Ironically, skiing, the only activity Shawn's long-time coach Liang Chow (they've worked together since she was 6) considered completely off-limits, brought her back into the game.
At a recent event at Nike headquarters, in Beaverton, OR, Shawn told me that after learning the results of her postaccident MRI, she drove straight to the gym and told Chow she wanted to come back even though she had torn two ligaments in her knee, torn her meniscus (the cushion of cartilage that sits between the thigh and the tibia, or shin bone), and ripped her hamstrings. "Instead of thinking, 'I'll never be able to come back now,' the first thing that came to me was, 'I have to go back.' It was kind of a motivation to me to get healthy again and to rehab myself . . . I really like to make things hard, and I don't like things that are easy."
Keep reading to learn more about Shawn's comeback.
No one would ever call her days at the gym easy. Shawn trains with Chow for four hours every weekday, spending time on each element: uneven bars, beam, vault, and floor. The gymnastics workout is sandwiched between two 30-minute stints of conditioning, one to warm up and one for cooling down. "It's just very fast-paced; we don't stop. We're very productive; we get our stuff done." Saturdays are the workhorse day, going 9 a.m. to 3 p.m. with an hour break in the middle. On her own time, Shawn practices Pilates and yoga (imagine rolling out your mat next to her with her splits beyond 180 degrees) and does cardio on the elliptical or treadmill. But distance running is not her thing, explaining, "I run 70 feet down a runway" to the vault. Her max is five miles, and she finds running outside is serious stress relief.
Putting her Olympic dreams in perspective, the 20-year-old laughs when she admits for a gymnast she's "considered old, since you rarely see girls over the age of 16; normally it's a one-shot thing" going to the games. Her number one goal is to make the team — the team is finalized in early July. "I'd love to make the all-around competition, but I'm not going to put any goals or expectations on placements because you don't know what's going to happen. My biggest dream is just to be on the team." And she'd be a veteran Olympian, a role she frankly relishes. Shawn has matured a lot in the last four years and sees herself as a kind of "momma of the team" — something she didn't experience in Beijing.
When her motivation wanes, Shawn remembers the feeling of "standing on the podium, walking into the arena, or being in the Olympic village." Being able to have a chance to feel that all again gets her going. "You learn from the mistakes and from the bad days, and you try to make the next day even better."