Shiva Rea Tip For Tight Shoulders and Hips
Wanderlust Yogi Shiva Rea Shares Her Top Pose For Desk Dwellers
Expert teacher Shiva Rea is a pioneer in the yoga community, so it's no surprise that she's a fixture at the four-day yoga and music Wanderlust Festival, happening at various locations across North America.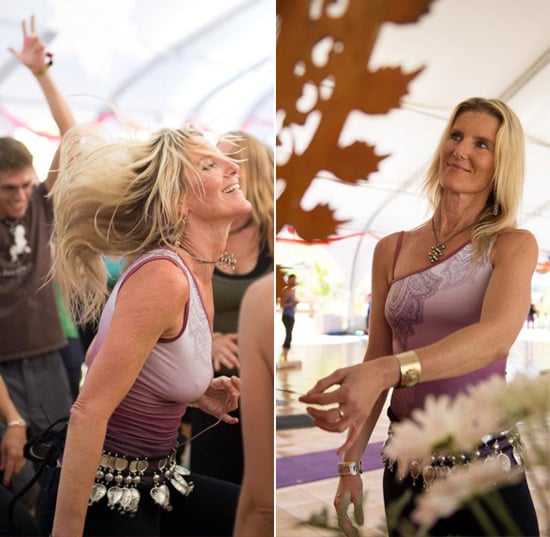 While the yoga life is a good one, Shiva recognizes that not everyone has the opportunity to practice yoga for hours every day. When we asked her for the number one pose for 9-to-5ers who sit at a desk, her response was the "all-around asana" Downward Facing Dog, since it's "an inversion, backbend, and forward bend" all rolled into one.
For people who can't drop to the floor and enjoy yoga freely at the office, Shiva offers a desk-approved version of Downward Dog. Keep reading to learn the variation that will help you release tension at work.
Photo: Anna Roberts
Since I'm a little bit on the taller side, I took off my shoes and found the tallest desk in our office. If you work in an environment where you feel uncomfortable taking off your shoes, know that you don't need to take them off to reap the benefits of this pose. Here are Shiva's instructions for this Downward Dog variation:
"Put your hands on your desk and extend your hips out and walk out so you make an L shape with your feet under your hips."
"Rotate your pelvis toward the sky to release your hamstrings and hips, which become tight from all that sitting."
"Release your shoulders and open your spine by pushing your hands into your desk, rolling your shoulders under, and pulling back through your hips."
"Move your spine into your body. As you receive the backbend, be careful not to compress your shoulders."
"Feel the flow of your breath, relax, and enjoy."
Shiva suggests holding this from "three breaths to several minutes" whenever you're in need of a mini break!