Should I Soak Nuts Before Eating Them?
Sprouting Your Grains, Nuts, and Legumes
There is one important step you can take before cooking or eating your food raw, and that step is sprouting. Nuts, just like grains, seeds, and legumes, all start out with natural enzyme inhibitors that prevent them from premature sprouting. These handy little guards may extend the shelf life of your dry goods, but they also prolong the digestion process. By sprouting them yourself, you can control when you want to enjoy these foods and better absorb the nutrients from their tough exterior. Read on to find out how you can start sprouting by dinnertime.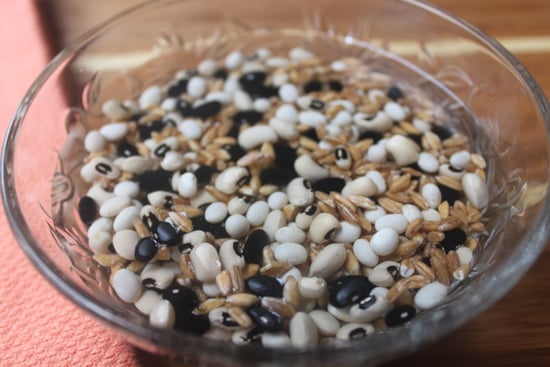 Sprouting 101
Seeds can thoroughly sprout after a few days in a warm, moist climate. Most sprouting devotees lock their dry food of choice in a clean container filled with water to allow sprouting to occur overnight, literally.
Foods that can be sprouted include but are not limited to:
Grains: Farro, barley, wheat, quinoa, and rice.
Legumes: Lentils, peas, and garbanzo, pinto, and kidney beans.
Seeds: Sunflower, radish, and broccoli.
Nuts: Cashews, almonds, peanuts, and walnuts.
More information after the break.
How To Do It
Sprouting can occur anywhere from a couple of hours up to seven days depending on the food you sprout. Whatever you choose, follow these tips for safe sprouting.
Sanitize containers used to store and sprout.
Wash your hands before and after sprouting to avoid contamination.
Use clean water for soaking and rinsing seeds.
Circulate air by draining water and refilling it in long periods of sprouting time.
Smell test your seeds. A neutral odor is the sign of clean sprouting.
Nutritional Benefits
By sprouting your grains, seeds, legumes, and nuts, you are acting as an aid to your digestive system. Sprouting cuts the work in half because the nutrients are there, ready for digestion. Participants of sprouting have been known to witness the following digestion benefits.
Improved gut for those with prior sensitivity.
Lowered symptoms to grain protein allergens.
Decreased amount of stomachaches.
Better sense of overall health and well-being.