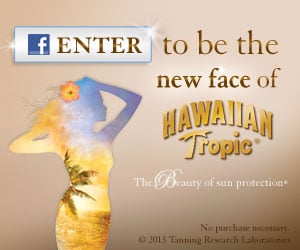 Beach season is here, and we're thinking that all those crunches and 6 a.m. jogs have done as much for your spirit as they have for your shape. So why not let that sun-kissed confidence and well-toned physique earn you more than a few second glances this Summer?
Visit the Hawaiian Tropic® Facebook page today through May 31, 2013, to enter the contest by submitting a photo and information about your personality and interests. Not only will you be entering for the chance to show off your hard-earned, healthy bod, but you could also become the new spokeswoman for the brand! In addition to the chance to be featured in a 2014 Hawaiian Tropic® advertisement as the brand spokeswoman, you will also receive inside perks and opportunities, including an all-expense-paid trip to a tropical location. And that's only the beginning!
This Summer remember to indulge, pamper, and protect your skin with Hawaiian Tropic® sun care before you make your latest Summer style statement. Hawaiian Tropic® products are infused with exotic island botanicals and a signature tropical fragrance, so you not only look your best, but also smell your best while hanging by the beach or poolside!
Visit the Hawaiian Tropic® Facebook page and enter the contest now!