Signs You Know You're a Running Fanatic
Top 10 Signs You're a Running Fanatic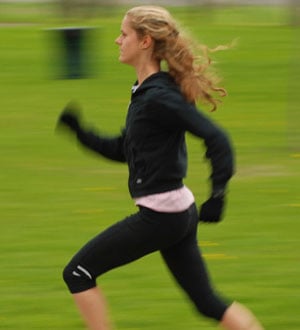 Some of us are extreme health nuts, taking care of our bodies by shopping solely at health food stores, snacking on kale chips, and cooking up quinoa. Another way we can travel on the healthy path is with exercise. Running is one of the most popular ways to stay in shape, and some people are completely obsessed. Are you? Here are 10 signs that designate you as a born-certified running fanatic.


For your birthday, you'd rather see a box from Nike than a box from Tiffany's.
You own more sports bras than regular bras.
When someone asks you out for a date, you assume it's to go running.
At least one of your toenails is black or missing.
When your heart is pounding, you're breathing heavy, and you're covered in sweat, you're not in the bedroom.
You'd rather kick up some dirt than kick back a beer.
Your typical conversations involve words like fartlek, negative split, and pronate.
You're overly familiar with the iliotibial band and just refer to it as the ITB.
You accessorize your outfit with a heart rate monitor watch, sweat band, and band-aids on your feet.
You wear sneakers at all times, just in case you can squeeze in some quick intervals.
Are you a running fanatic? Tell me in the comments section below.