Silly Injuries That Derail Your Fitness
Silly Injuries That Could Derail Your Fitness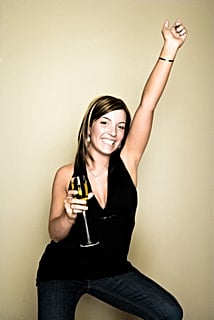 Part of a fit lifestyle, in my opinion, is living life to the fullest. Taking advantage of each moment and doing something fun is just as important for living a fit and healthy lifestyle as a proper fitness routine. Unfortunately, sometimes those two things get in the way of each other, and the most well-lived moments can turn into injuries that can sideline your workout routine. In the spirit of full disclosure, here are a few of the silly injuries I've recently received and a few suggested solutions for averting disaster.
Slave to fashion: Thinking I'd only be out of my Las Vegas hotel room for a few hours (famous last words), I donned a pair of sky-high heels. A few hours turned into many hours, and that turned into an incredibly sore IT band. I'm a runner, so that was not ideal; each step I took during runs for a week reminded me of my five-inch heel mistake.
Solution: When in Vegas, wear heels . . . I get it. But it would have been prudent to stash a pair of those slip-on shoes that take up about the same amount of purse real estate as a compact. Lesson learned. Alternatively? If you're stuck in heels, sit when you can and pay attention to how you're walking. Had I just slowed down and walked properly, I don't think I would have had close to the same problem.
There are plenty more! Check out the rest and share your own stories after the break.
Old habits die hard: I've crossed my legs as long as I've had a desk job, and probably for years in school before that. That also wreaks havoc on an IT band, but day after day, I sit at my desk, legs crossed, hips and knees out of line. It's not until around 4 p.m. when I start to get achy that I realize my mistake.
Solution: Cross your ankles. Remind yourself to cross your ankles. Put a post-it note on your computer that reminds you to cross your ankles, not your legs. Your IT bands, hips, and knees will thank you.
Sharp edges: Kind of gross, but forgetting to trim your toenails before any sort of activity can leave you in a lot of pain. I've experienced problems running, and even problems skiing after one toenail actually cut into another toe. This also caused problems walking in high heels (see point one), but made exercise without a tight-fitting bandage even more unbearable.
Solution: Cut your toenails. And if there's a question when you're leaving the house for whether or not you should cut them, always err on the side of cutting them. Your toes will thank you later!
Dance party: This is my most recent ridiculous injury. After inviting some friends over for champagne and Sunday brunch, my apartment turned into an impromptu but very serious dance party. Great for burning calories, not so great for my strained calf muscle that reminds me of my dance party with every step I take.
Solution: Since canceling an impromptu dance party isn't really an option (where's the fun in that?), just try and keep it under control. And if you do strain a calf: try compression.
Any silly injuries to fess up to?