Simple Healthy Snack Recipes App
Use the Shake a Snack App For Healthy Snack Recipes
I'm always up for a good snack, especially if it's a healthy one that tastes delicious. While I'm all for portion-controlling my snack time, I'm not so good at going the even healthier route and making my own snacks, unless it's a simple one like sliced fruit or a bowl of popcorn. That's OK though, because now, like everything, if I want an easy and low-calorie snack recipe, there's an app for that.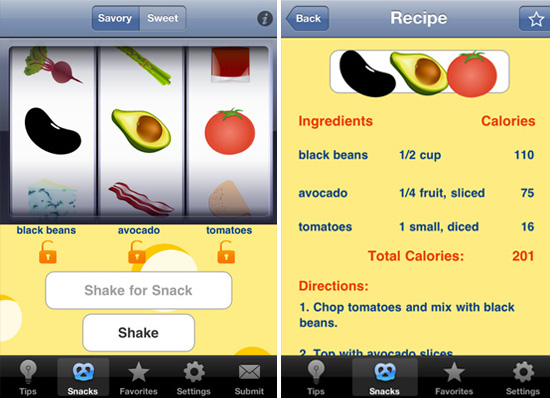 The idea of the iPhone Shake a Snack app (free until Dec. 12 on the App Store) is simple: shake it for a random healthy recipe involving just three ingredients. The app looks like a slot machine and the pictures of each food are cute so it's a fun diversion for a few minutes.
If you just want to get down to business, however, you can deselect ingredients you don't like, choose from savory or sweet options, and save your favorites for quick access. You can also switch from cute picture mode to a text list of ingredients and lock down an ingredient if you know you want to use it. The recipes also list the calories in each ingredient.
I love how simple the app's premise and recipes are, and it's a fun way to try combinations you may not come up with on your own, like walnut, mustard, and swiss cheese rolls (136 calories) or a sweet mix of pretzels, peanut butter, and honey (267 calories). And, since it's conveniently on your phone, it's always handy for when that package of cookies is calling your name!