Single Leg Stretch With Nicole Stuart
Celeb Trainer Nicole Stuart Shows Us Single Leg Stretch
Celebrity trainer and Pilates instructor Nicole Stuart spends her days keeping celeb clients like Kate Hudson and Anna Faris in shape, and for the next week, she'll be doing the same for us. Today she is demonstrating Single Leg Stretch, a move that works the low abs and also challenges your coordination.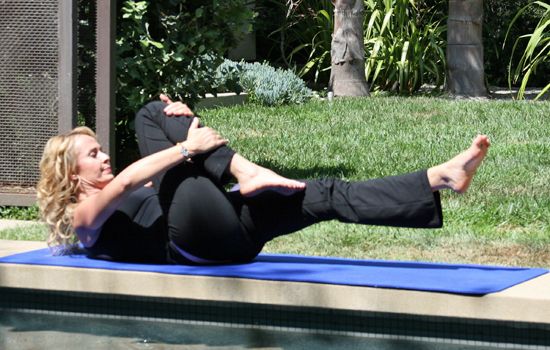 To start, lie on your back with your knees in tabletop position.
Pull your right knee in toward your chest. Your outside hand should be near your ankle, and your inside hand near your knee. As you pull your right knee in, extend your left leg all the way out at a 45-degree angle. Gently lift your head up, keeping your chin slightly down. Engage your abs and bring your upper back off of the floor. The bottom tips of your shoulder blades are just off the mat, and your abs are anchored throughout the exercise.
Hold here for two counts.
Keeping your head off of the mat, switch sides by pulling your left knee in toward the chest and extending your right leg out.
Repeat 10 times.
Tip: create resistance by pulling your knee in while pushing it out at the same time. Be aware of not hyperextending the knees during this exercise.