Skiing Essentials For Your Head and Toes
'Tis the season to hit the slopes. Yee haw! But if you're not well prepared, a day on the mountain can be pretty miserable. I have found that if my toes and my ears are warm, I am a happy skier. This is why I was stoked to test some gear a few cold weather gear companies sent my way.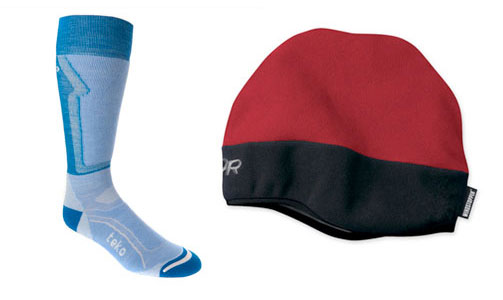 I skied recently on a couple of seriously snowy windy days up in the Lake Tahoe area and was amazed that my toes stayed warm with the Women's Ski Light ($21) by Teko. This is the greenest sock around, made of merino wool in factories powered by wind. It is the perfect combination of thickness and wicking, with a little extra shin padding for your tight boots. This sock is thin, so you can keep your boots tight, but it manages to perfectly insulate your toes from the elements. Though the socks do stretch out a bit easily, I think they will hold up well as long as they don't get thrown in the drier.
As for my head, it was completely covered with the Alpine Hat ($28) by Outdoor Research, made of windproof fleece. This hat is cut to cover your ears, which is essential for the lift time on windy days. The hat fit perfectly under my ski helmet, for it is thin yet warm. My head stayed quite toasty when I went sledding sans helmet too. What this hat might lack in cuteness, it makes up for with practicality and warmth.
Have you hit the slopes yet this season?