Sleepy People Eat More
Rest Up! Study Suggests Sleepy People Eat More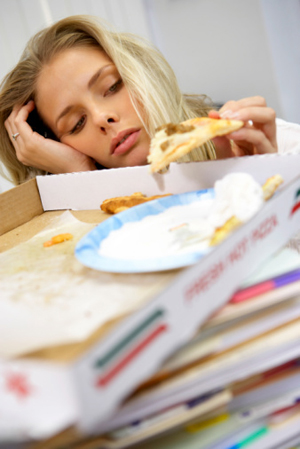 People who sleep less, eat more — about 300 calories more per day. A Columbia University study looked at the eating habits of sleep-deprived individuals and found that not only do they eat more, but they also choose unhealthy foods.
Thirteen men and 13 women were kept in a controlled environment for six days at a time on two separate occasions. During one visit they were allowed nine hours of bedtime, on the next, four hours. For the first four days of each visit, the group was kept on the same diet; researchers then allowed participants to eat anything they wanted to on day five. On the fifth day, participants ate an average of 300 more calories when sleepy compared to the previous visit when they were well rested. Interestingly, the added calories did not come from eating more simply because they were up for an extra five hours. Most of the participants stuck to their normal eating times, but chose foods high in saturated fats during these meals.
While the study is small, in both size and scope, researchers feel that it may provide evidence for a link between sleep and obesity. Previous research has shown that lack of sleep is linked to weight gain because the body functions poorly when sleep-deprived and ends up storing more fat. Just another reason to make sure that you're getting enough sleep.