Small and Inexpensive Ways to Get Motivated
Get Motivated by the Small Stuff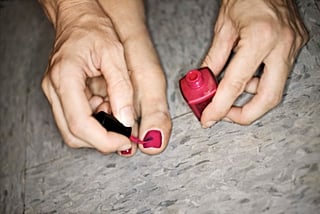 Known gripe: fitness gear can be expensive! Even "free" activities like running or swimming can carry a hefty price tag once you start adding up all of the gear you need to get started. After splurging on a new pair of shoes or a high-tech sports bra, I'm incredibly reluctant to make another fitness-related purchase for a while. The downside, though, is losing that sense of euphoria and momentum that new sneaks or other gear gives you! Since every day can't be new sneakers day, here are three small and inexpensive ways to look forward to your next workout; minimal cash required! To see what they are, keep reading.
New socks There are socks for every sport and activity under the sun — hiking socks, biking socks, running socks, walking socks, even left-foot and right-foot socks. Pick up a new pair or two if you need a workout lift (even if you don't really need new socks — that's what the splurge is about!), and rock your new socks and a little extra motivation.
A different flavor of PowerGel or Gu I'm superstitious, so I tend to save my favorite gel flavor (strawberry banana) for race days. But if I'm feeling stuck in a rut, I'll bust out the "special" flavor for a long run.
Different colored toenails For yoga, swimming, or anything else that bares your toes, try painting them different colors. Not only is it fun and whimsical, you'll probably get a lot of compliments from classmates. Related but slightly more expensive: a full-on pedicure.
What about you? Do you ever treat yourself in small, inexpensive ways? Share your tip below!