Snack Attack: Make Your Own Trail Mix
I love me some trail mix. It's a great snack that satisfies both salty and sweet cravings. And if made the right way, it provides healthy nutrition that your body needs. Whether I'm at work, running errands, or on a hike, trail mix is my go-to snack for that extra boost of energy I might need to get through the next couple of hours.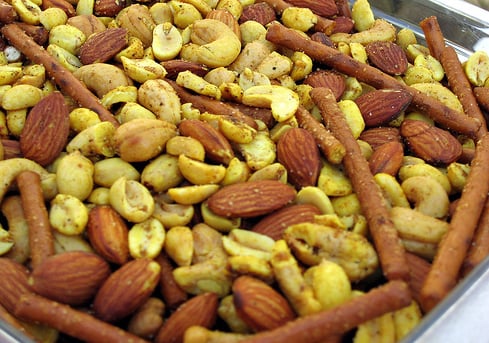 Even though it's easy enough to buy trail mix, it's more fun to make it. Added plus: you can make a week's worth of snack packs so you always have a healthy snack ready. Not only will you save money, you will also get more variety because you can change up the ingredients whenever you want. In my kitchen cabinet, I keep a wide variety of fixings that I can use to make into a trail mix, or snack on their own. Nuts, dried fruit, rice crackers, and dried veggies are some of my favorite things to use. Make sure to buy fruit that isn't loaded with sugar, and nuts that haven't been salted. And if you want a little sweetness in your mix, add some chocolate, yogurt, or carob chips. Or if you want a little spice, add some curry powder, herbs, or Morrocan spices. Just  make sure that the ratio of your trail mix is three parts healthy stuff, to one part everything else. A good combo of these ingredients will provide you with a snack that's full of protein, fiber, and vitamins.
See what trail mix combos I make at home, when you read more.
Here are some of my favorite mixes:
Cashews, dried cherries, and dark chocolate chips
Almonds, walnuts, dried apricots, dried cranberries, and milk chocolate chips
Roasted almonds, dried ginger, and bittersweet chocolate chips
Almonds, sunflower seeds, spicy wasabi peas, curry powder, and coconut flakes
Pecans, raisins, dried figs, and peanut butter chips
What are some of your favorite trail mix combos?
Source: Flickr User sleepyneko