Snooki of the Jersey Shore Goes on the Cookie Diet and Gives Up Binge Drinking
Are You More Likely to Try a Fad Diet or Give Up Drinking to Lose Weight?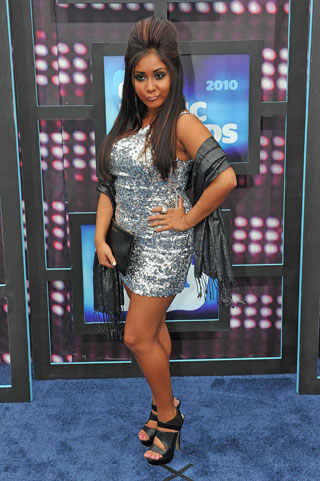 The petite Snooki has put on some pounds, and told Us Weekly, "I used to be fit. Now I look at myself, and I'm like, 'What the hell happened?'" To battle the bulge, she's taking a two-pronged approach: Snooki is following Dr. Siegal's cookie diet and is giving up binge drinking. The four-foot-nine Jersey Shore star is limiting her food to one meal a day plus six protein-fortified, appetite-suppressing cookies — which doesn't sound like the healthiest way to shed weight to me. On the healthier side of things, Snooki also said, "If I go out I am going to have a drink, but I am not going to have 10 drinks like I usually would."
There are many ways to approach weight loss, but as you know, I'm not a fan of fad diets and believe that slow and steady lifestyle changes are the way to go. I do applaud Snooki for cutting down on the drinking; not only are alcoholic beverages full of empty calories, drinking more than one drink a day is not good for a woman's health.
I'm curious about you all, which of these techniques is more your style?