Soba Noodle Salad With Peanut Sauce Recipe
Reader Recipe: Soba Noodle Salad With Peanut Sauce
Here's an easy recipe featuring soba noodles — one of our fave ingredients. FitSugar reader eatingbirdfood posted this recipe using the healthy noodle in our Healthy Recipe group.
See the recipe after the break!
Soba Noodle Salad with Peanut Sauce
Ingredients
1 (16 oz) package of buckwheat/ soba noodles
1 cup kale, de-stemmed and chopped
1 cup carrots, cut into strips or grated
1 small bunch of spring onions or scallions, thinly sliced
1 cup cooked edamame
1/2 cup peanut butter
2 cloves of garlic, crushed and chopped
1/2 tbsp. fresh ginger, minced
1/8 cup rice vinegar
1/8 cup soy sauce or tamari
2 T honey or brown rice syrup
a pinch of cayenne pepper (optional)
1/4 cup – 1/2 cup warm water, to thin
Directions
Boil the noodles per package instructions. In the last two minutes or so of cooking toss in the kale. Drain noodles and kale, run under cold water for about a minute to stop cooking, and set aside.
Combine peanut butter, garlic, ginger, vinegar, soy sauce, honey and cayenne pepper in a medium bowl. Thin with warm water – the amount of water you'll need depends on the consistency you want.
Gently toss the noodles, kale, carrots, spring onions and edamame with a big splash of the sauce. Add more sauce a bit at a time, until the salad is dressed to your liking, reserving any extra for another use. Taste, sprinkle ground pepper and sea salt if needed, and serve warm or at room temperature.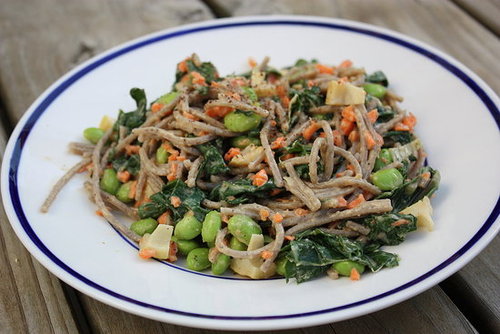 Information
Category

Main Dishes
Warm weather has us ready for even more fresh, delicious recipes! Share yours in the Healthy Recipe group in the Fit Community.