Spinning and Yoga Together in One Fitness Class
New Hybrid Class: Spinning and Yoga
Since the new millennium rolled around, it seems like the ancient practice of yoga has been mixed with almost every form of exercise, from the Pilates hybrid Yogalates to kickboxing's Koga. A new yoga mashup is making its way into the fitness world: yoga and spinning. Before your third eye conjures up images of holding a downward-facing dog while clipped in on a stationary bike, let me explain that the 60-minute classes are divided into two half-hour segments: 30 minutes of spin followed by 30 minutes of yoga. After taking a class at YAS Fitness Center in LA recently, I can attest that this blend makes great sense.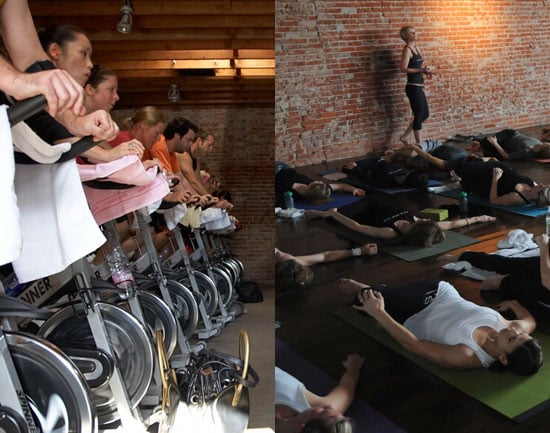 Keep reading to learn more about this new hybrid class.
Working out on a spin bike for 30 minutes not only means that you burn some calories, but also that you raise your heart rate and sweat for a half hour, which means your muscles are primed for stretching. Once out of the saddle and onto the mat, I found myself getting deeper into the poses than usual. The usual beginning-of-yoga-class tightness was pleasantly absent. In its place, though, were burning, shaking quads (the side effect of packing intense intervals and hill climbs into a half hour) while holding the warrior two and chair poses. But I love that sensation. Leaving the studio, you feel the benefits of both sections of the class; it's like you got two workouts done in an hour.
After rocking out to cycling jams, downshifting into yoga mode feels just right, and the poses lengthen all those places you get tight cycling. Standing poses like warrior one and two, along with the side angle pose, open the hips, often overworked in biking. Seated twist and pigeon poses stretch out the glutes and piriformis, which helps keep the lower back and knees happy after time in the saddle. You work yourself out, then stretch yourself out. Indoor cycling and yoga are perfect fitness complements in my opinion.
The yoga-spin hybrid is perfect for the busy-bee fitness enthusiast who gets bored after 45 minutes in the saddle or 90 minutes on the yoga mat. Classes mixing these two elements are cropping up all over. Try a class at one of the four YAS locations in LA, Focus Fitness in the Philadelphia area, or the Tribeca, Wall Street, and Brooklyn Heights Equinox clubs in NYC. If you've found a studio offering this hybrid in your neck of the woods, share the deets in the comments section below. You might just be turning on another FitSugar reader to a new mode of working out.