Sports Club LA Fitness Offering Deals Until 4/30
How the Other Half Works Out: Sports Club LA Fitness
I love my local YMCA. It's affordable, kid friendly, and super diverse. Yet, when FitSugar received a mailer promotion for a five-day free pass to Sports Club LA /San Francisco, I thought I would check it out. Plus, I learned on my tour of the luxurious gym that until the end of April many of the LA Sports Clubs have significantly reduced the one-time initiation fee.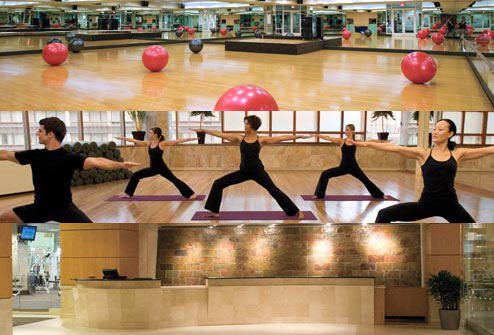 The club in SF is gorgeous and large. I have never seen so many treadmills under one roof. Spread out over three floors, with a saline pool, this club boasts two large cardio equipment areas with two large free-weight areas and almost any kind of strength training equipment you can dream of — from medicine balls to TRX suspension systems, from Kinesis cable training to Pilates, along with all the basic weight machines. Offering over 130 different types of group fitness classes (including boxing, many types of yoga, spin, sculpt, step, and Zumba), this gym is a fitness fanatic's dream. It has a nice cafe serving healthy, reasonably priced meals, too. Basically, Sports Club LA is a lovely place to work out and chill out (it has three private meditation/yoga rooms for all members to use). I worked out there during the lunch rush and it didn't feel crowded at all.
To see the cost of the monthly fee, just
.
Many of these clubs (in NYC, LA, Miami, and Boston) are offering deals until the end of the month. The basic monthly and initiation fees vary from gym to gym, and in SF it's steep at $168 — but the initiation fees have been significantly reduced, down to $115 from $750. If you have been thinking about joining a luxury gym, I suggest checking out Sports Club LA if there is one close to you. A high monthly fee could be motivating, especially if the gym is conveniently close to your home or work. I have a few more days on my pass to enjoy the amenities before heading back to the Y.