Sporty Date Ideas
More Posh Than Sporty? Fun Ways to Spice Up Sports
San Francisco has a case of Giants fever; it's the first time in seven years that our city's baseball team is making it to the playoffs, and people are stoked! This weekend while "watching" the game, I asked if the World Series was on — hey, people seemed really excited! — and had to have baseball leagues, playoffs, and pinch hitting explained to me several times. But just because I fit the stereotype of women and sports not mixing, it doesn't mean I can't spin them a little for my own enjoyment.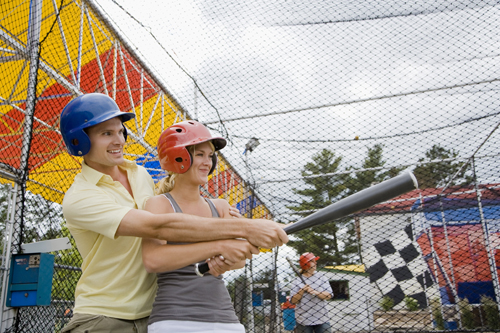 A few weeks ago, my boyfriend and I spent an afternoon at the batting cages. Besides being a great date, hitting a ball that was coming toward me at 35 mph was a fun workout, and it helped me appreciate the sport. But why stop at the cages?
Fore (play!): Since I'm pretty bad at mini golf, "real" golf is not happening for me — I'll take pirate ships and windmills over a sand trap, any day. Driving ranges, on the other hand, are a whole different story: no course that takes hours to finish or confusion from picking one of 14 different clubs. Instead, you get to whack a bucket of balls as far and as straight as you can. Sounds easy, but a driving range will test your posture, strength, and eye-hand coordination. Added bonus: your sweetie can always sneak in close to help with your swing.
I have two more ideas, so keep on reading!
Go, speed racer, go!: If you've ever been to a NASCAR race then I don't have to tell you how it can sometimes feel like bikini season — year-round. And while I love a good bikini top, I prefer mine on the beach. Watching a car race on television doesn't have the same kind of excitement though, but getting behind the wheel of your own go-kart sure does! Most cities have safe go-karting parks that rent cars by the hour or lap. Take a friend, rent a two-seater, and show off your guns — and fearlessness — as you corner those turns.
H-O-R-S-E around: Basketball is the one sport I know a little bit about and don't mind watching, but it's not something I seek out on the regular. But playing the basketball game H-O-R-S-E is a big fave of mine. While the payoff is working up a sweat and showing off my trick shots, healthy competition is always a good time.