Spring Rain Running Tips
Tips For Running in Springtime Rain
Spring has sprung and that means moving off the treadmill and into the great outdoors. But since Spring often equals rain showers, an outdoor run could be nearly thwarted by weather. Don't be afraid of the rain — with a few simple adjustments to your normal routine you'll be on your way to a great run, elements and all.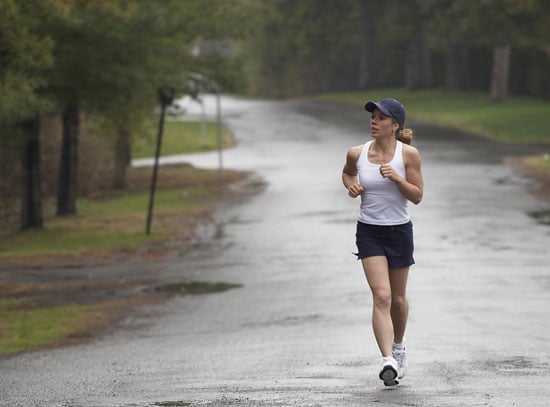 Do not wear cotton: While comfortable, cotton shirts, shorts, socks, basically cotton anything soaks up water quickly, becoming heavy and generally uncomfortable. Stick to wicking materials, and finish your outfit with a waterproof top layer.
Wear high(er) socks: Speaking of socks, since running in the rain can cause blisters, choose a pair of (non-cotton) socks that reach above your sneakers.
Wear old shoes: If you don't want to invest in a pair of specifically waterproof sneakers, choose an older pair to use in the rain. Shoes can take days to completely dry out, and rain usually comes with mud. Also: to dry shoes, store them in a warm, dry place and stuff them with old newspaper to aid in the drying process. Do not put them in the dryer; artificial heat sources will cause shoes to break down faster than they would with normal wear and tear.
Protect your eyes: Sunglasses and/or a hat will help keep the rain from pelting your eyes during your run. I know sporting sunglasses in the rain may seem odd, but keeping your peepers dry while on the move is essential to seeing the road and unexpected obstacles.
Secure long hair: Anyone who's been whipped in the face with a wet ponytail will tell you it's not pleasant. Try a low braid or bun for long hair — at least the rain will take care of flyaways! Here are some sporty hairstyles to help keep hair out of your face.
Be seen: If you're running on a road, wear some sort of reflective gear so motorists can spot you through the showers. Even with reflective or bright gear, it's best to run defensively: never assume that a car can see you.
Modify your workout: Shorten your stride slightly and relax — you'll have less chance of falling or making a wrong step.