Spring Trail Running Unexpected Danger Is Leaves
Unexpected Spring Trail Run Danger: Leaves?
If warmer temps and sunny skies inspire you to hit the woods for your first Spring trail run, there are definitely some obvious dangers to avoid, like bears. You wouldn't think of it, but leaves can also be hazardous, and here's how.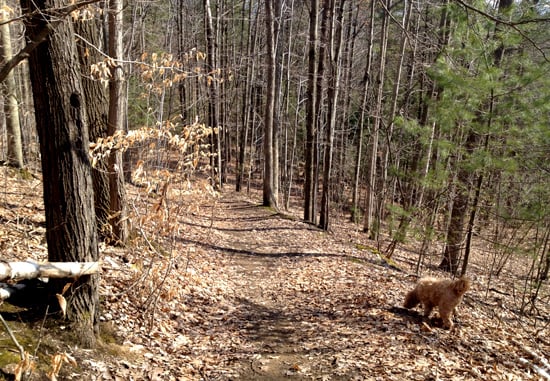 Wet leaves: When snow melts and Spring rains pour down, you're looking at dangerously wet and muddy trails. The top layer of leaves can appear dry, but underneath, they're a wet, slippery mess, putting you at risk for a nasty fall. Avoid running after a rainstorm and over low areas of the trail that are covered in leaves, since these tend to trap puddles. Wear waterproof trail runners with grippy soles for maximum stability on wet surfaces.
Leaves covering the trail: In the beginning of Spring, leaf-covered trails make it hard to see what's hidden underneath. Aside from concealing wetness, leaves also cover up fallen limbs, holes, and rocks. Steer clear of running through big piles of leaves, or those that look abnormally high, and try to step on clear spots in the trail.
Lack of leaves: All the leaves are on the trail, which means there are none on the trees. Bare branches and limbs mean no protection from the sun, putting you at risk for sunburns and heat exhaustion (on really hot days). Aim to run in the early morning or late afternoon when the sun is weakest, and don't forget to wear sunscreen and a hat. It's a smart idea to carry water with you as well to prevent dehydration.