Squat Stretch
Hip Help on the Go: The Squat Stretch
If at first you cringe when you hear the word squat, then relax; not all squats are meant to be painful. Enter the Wide Squat stretch, commonly known by yogis as Malasana or Garland Pose. If you work at a desk, then it's likely that your hips are tight, causing the rest of your lower body to be stiff as well. Practicing Wide Squat is exactly what your lower body needs to stay loose and pain-free.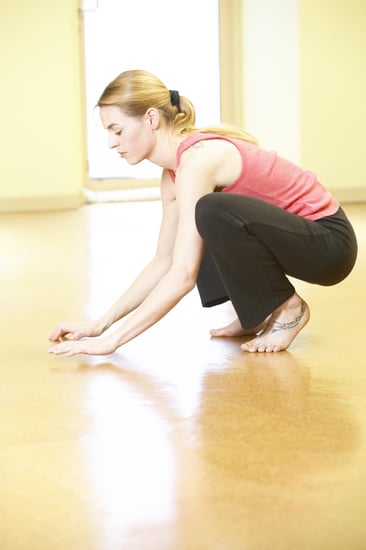 The stretch . . .
Stand with your feet slightly wider than your hips.
Lead with your chest and bend your knees, lowering your hips down toward the ground. Go as low as comfortable or until your heels lift from the ground. Over time, as your hips loosen, this should become easier. (You can also lower your heels to the ground if that is more comfortable and stable.)
Practice shifting weight into your heels and lengthening the crown of your head up toward the ceiling. This is a good exercise for your posture as well.
Hold the pose for a few breaths or however long you wish, standing up and going back down as often as you need.
The opportunities . . .
Practice it while traveling in long lines and during stretching breaks on the airplane.
During concerts if you will be standing for long periods of time.
Sight seeing in museums where there are often long lines
Incorporated into your daily stretching routine.
When you take quick office breaks away from your desk.
On road trips where you might be sitting for hours at a time.