Starbucks Pumpkin Spice Latte Calories
Rethink Your Drink: Starbucks Pumpkin Spice Latte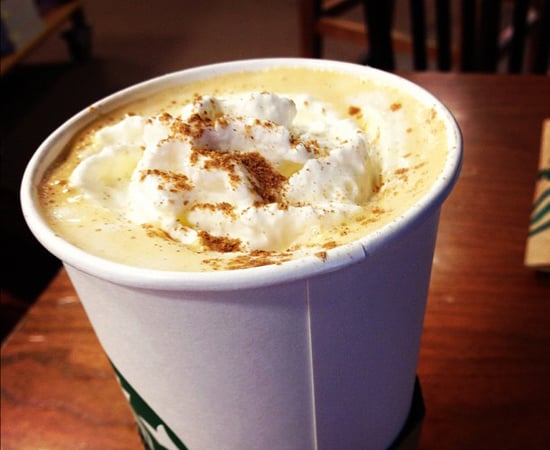 Cooler Fall temperatures call for warmer beverages, and many can't wait for the pumpkin spice latte to be offered at their go-to Starbucks. But unfortunately for this seasonal treat, sugar and spice are not everything nice for your waistline.
The whopping amount of sugar in a pumpkin spice latte is not doing your body any good, especially when we know that sugar may be as addictive as smoking. And the amount of fat in each drink — most of it saturated — can top a quarter of your recommended daily amount of fat intake. If this is your standard Fall order, it's high time to rethink your drink. Learn how to lighten up this Fall favorite when you keep reading.
For those who can't think of a life without pumpkin spice, ask your barista for half a pump of the sweetener, since this is the major culprit in the sugar department. Take the whipped cream off the top to save between 50 — 70 calories, and ask for nonfat milk instead of the standard two percent. If you're ready to really lighten things up, go for a hot cup of calorie-free Tazo Full Leaf Chai Tea, not to be confused with the chai latte! The tea boasts the comforting scents of cinnamon, cardamom, and ginger. Another alternative is a misto; the simple combination of brewed coffee and steamed milk clocks in at 110 calories and 4 grams of fat for the grande size made with two percent milk. Top it off with some nutmeg, or even bring your own pumpkin spice from home to sprinkle on!