Stay Away From Sick Loved Ones If They Have a Cold
Speak Up: How Do You Handle Sick Loved Ones?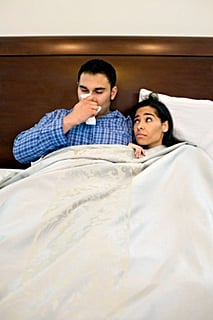 Last week I was miserable with a cold — runny nose, zero energy, aches and pains, and horrible congestion. Basically, I was a wreck. Given that the mister was sick the week prior, it's pretty likely he was the giver of my nasty present.
When my loved ones are sick, I usually do my best to take care of them. My mama bear instincts come out, and I totally forget that I'm putting myself in the line of fire. I cook big batches of spicy soups, make sure they have an arsenal of meds at their bedside, and keep them company since they're stuck at home.
A colleague of mine said that the minute anyone in her house gets sick, she wipes down every doorknob and light switch and sticks to limited contact. A friend of mine takes it up a notch and won't even see her boyfriend if he's sick. Everyone else seems to load up on zinc and echinacea in order to protect themselves. Based on these stories, I am now rethinking how I handle sick friends and family. For the record, these two women are remarkably always OK and seem to escape the cold and flu when it's going around. Yet, I always succumb to it even though I keep a very healthy and active lifestyle.
I'm wondering what all of you do when someone close to you gets sick — do you get into nurture mode, practice careful restraint, or banish them to an island?