Stay Healthy by Going on a Fitness Date For Valentine's Day
Are You Going on a Fitness Date For Valentine's Day?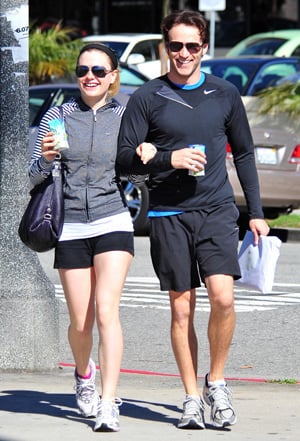 I am super excited for this weekend to start. Instead of a fancy dinner or a box of chocolates, the mister and I are celebrating Valentine's Day by spending the weekend rock climbing in Yosemite. We're splurging a little though — instead of roughing it in a tent like we normally do, we've got a room booked at a nearby bed and breakfast and a couples massage scheduled for Saturday evening. I'm also excited because one of our friends is coming up on Sunday to go on a hike with us. Compared to past Valentine's Day celebrations, this year's will definitely be my most fitness-inspired.
It looks like I'm not the only one who likes to get closer to my beau by going on a fitness date. Anna Paquin spent some quality time with her costar and fiancé Stephen Moyer at the gym this week. (It looks like they're also on the celeb-lovin' Vita Coco kick!)
How about you?