Stay Hydrated During Long Runs
Training for a long race like a half or full marathon is physically challenging but can be logistically challenging, too! In the past, one of the biggest problems I've had during 10-plus mile runs is water. I've tried carrying it with me but find on most long runs, it's more annoying then helpful.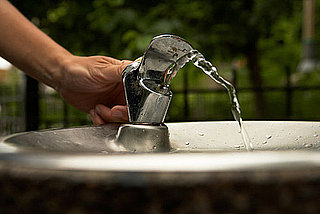 If you're planning a long run, you should drink 16 to 24 ounces of water an hour before you start; during a run, you should try to drink four to six ounces every 20 minutes or so.
Planning a long run? Here are some suggestions for staying hydrated. And if you have any of your own, please share them!


If you're running in the park: Figure out where the water fountains are before you go. If you've been running in the same public park for many training runs, you probably already know where to find them, so simply plan out your route based on their locations.
Get the rest of my suggestions after the break.
If you're running in a city or town: Map out fast food joints. It may sound weird, but in my experience, most fast food restaurants will give you a free cup of water if you ask. The drawback is having to run into a restaurant huffing, puffing, and possibly red in the face, but it's worth staying hydrated.
If you're running on a trail or in an unpopulated area: A water belt or hydration backpack is your best bet to stay hydrated, and while they're not my favorite choice, I find running with a backpack much easier than running with a water belt, though I have friends who love their water belts. The most important thing: however you choose to carry it, be sure you have enough water to drink both during and after your run.
How do you stay hydrated during long runs? Do you have a favorite water belt or backpack to share? Though I don't love them, I'm always open to suggestions!