Staying Motivated When Training For a Marathon
Power Through That Mid-Marathon-Training Slump
After signing up for a marathon earlier this year, I started out with nothing but the enthusiasm you'd expect when working toward a life goal. Cut to about the halfway point, and my go-get-'em attitude was replaced with running-route boredom (through the park again?), chronic knee pain, and a midrun breakdown brought on by a lingering cold. In short, I didn't know why anyone would ever sign up to run 26.2 miles, let alone me.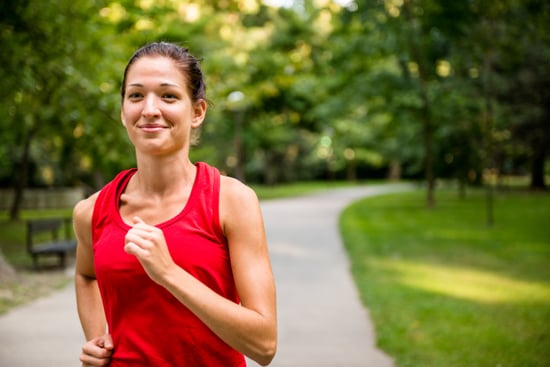 I know many marathoners who've felt the same way midway through their months-long training plan. The halfway point can be hard to power through — you've clocked hundreds of miles so far, but the big day still seems so far away. Luckily, all the effort is worth it once you wake up on race day (trust me!). Here are a few ways to stay motivated during that midtraining slump.
Don't put it off: By now, you have your schedule down — except for those weeks when you've got an afterwork event every day and a weekend trip planned. Be firm with your schedule; while it may be tempting to push all your running sessions in favor of something more fun, especially when you're feeling discouraged, saying you'll run Thursday through Sunday instead of sprinkling your runs throughout the week is a recipe for disaster. Reassess whether you've been prioritizing your training plan, and then choose which social engagements you need to skip.
Keep a record: If you haven't been keeping a record of all your runs, then now's the time to start. It'll help you visualize your progress, which is a great way to stay motivated. It'll also hold you accountable if you start to skip out on your training runs — you'll have the date of your last workout staring you in the face.
Know what works: As your race gets nearer, knowing exactly what works and what doesn't during long runs will keep you on the right path. There's nothing like a stomach ache or a major chafing incident to dampen any enthusiasm for those 20-milers as the weeks go on. Know which shoes work best for long runs, keep an eye on your laundry pile so you know when your favorite capris need to be washed, and stock up at the store so you always have the right pre-workout snack ready. Starting out on the right foot before a long run helps the time go by that much faster.
Know when to take a break: Sometimes, you shouldn't follow your training plan; if you're sick or injured, resting is the better option. You'll feel much better if you take a few days off to recover than if you stick with your plan and keep depleting your energy stores. Listen to your body — if you need to sleep in instead of suit up, then do so.
Share your experience: Whether you call a friend, commiserate with your running club, or join an online forum, it helps to share your frustrations and worries with someone who can encourage you and listen to you vent.
On that note, share your marathon training experience and advice below!