Steam With Essential Oils to Relieve Congestion
Congested? Get Steamy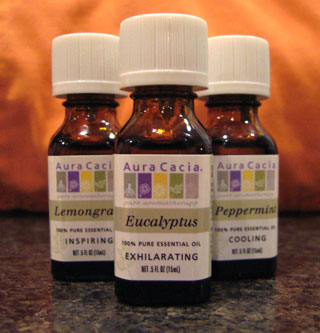 I am dealing with a late-season cold, and the congestion is overwhelming. While hanging out, sipping tea, and blowing my nose frequently at a friend's house, my host surprised me with a bowl of fragrant steamy liquid. I was told I needed to steam. My friend and budding herbalist added essential oils to the hot water to help open my nasal passages and I must say, it worked! I have read in a number of places that eucalyptus oil is a powerful decongestant, but my buddy thinks alone it is too overwhelming, so he blends eucalyptus oil with lemongrass and peppermint oil. It smells divine.
Here's how I steam with essential oils:
Boil two cups of filtered water into a glass or metal bowl.
Add two drops each of eucalyptus, lemongrass, and peppermint pure essential oils.
Place face over bowl and inhale deeply through nose. The oil mixture will smell intense at first, so start at least 12 inches from bowl. Then lower your head closer to the water as needed.
Keep breathing in the scented steam until bowl is no longer steaming.
Repeat throughout day.