Straight-Leg Crunches
Low to the Floor: Ab Sequence
Mix up your core routine by extending your legs while you crunch. Other than improving circulation, keeping your legs above your heart helps to work deeper into your abdominal wall. Cater this exercise to your level of strength and start targeting your most hard to reach area now.
Set-Up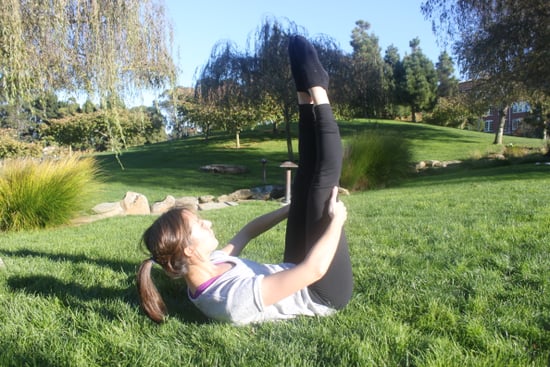 Start with your back on the ground and your legs extended at a 90-degree angle.
Place hands behind your knees. Using the strength in your arms and your abs, lift your shoulder blades off of the floor; shoulder blades should remain above the ground for the remainder of the exercise.
While holding your legs, contract your abdominal muscles and lift the chest up toward the ceiling, 10-20 times.
Arms Extended
Keep your abs pulled in as you release your arms. Extend your elbows and reach your hands straight up to your shins.
Reach your fingertips up further and contract your abs with each reach, 10-20 times.
Make sure to keep your neck long by relaxing it and only using your core to reach your arms higher.
See a more challenging variation of this move after the break!
Bonus Burn
Allow your arms to float down by your hips and levitate them there.
Reach your fingertips past your hips, pulling your abs down, 10-20 times.
Lower your straight legs down to a 45-degree angle, or to the lowest point your back will allow without lifting off of the ground.
Hold your lowest point for 10 seconds to finish.
Make sure your shoulder blades remain lifted and your lower back stays glued to the floor throughout the end of the exercise.