Strawberries With Balsamic Vinegar
Healthy Snack: Strawberries With Balsamic Vinegar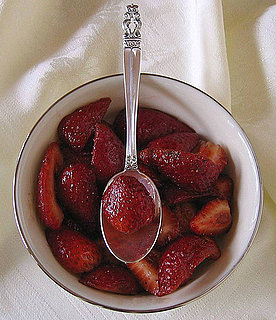 One of the best things about Spring is the abundance of fresh strawberries — raw, cooked, baked, or pureed, I can't get enough of 'em. I've even been known to freeze baskets of berries so I can still enjoy them after the season ends.
One of my favorite ways to enjoy strawberries is to toss them with balsamic vinegar; the sweet flavors of the strawberries pair nicely with the tart, acidic flavors of the vinegar. This snack is fantastic on a hot day, or a great way to have a light, healthy dessert after a meal. I slice and hull berries from one basket and toss in about one teaspoon of a good balsamic vinegar. Let that soak for about 20 minutes and you're done. If I'm feeling extra snazzy, I'll add chopped mint, black pepper, or a little bit of sugar. Eat alone, drizzle over yogurt, or serve next to your favorite cookie.
The next time you have strawberries on hand, try this snack — it's a great way to get all the fantastic antioxidants and vitamin C contained in the fruit. Or share your own healthy snack in our Get Fit 2010 challenge and Healthy Snack Attack group!
Source: Flickr User www.WorththeWhisk.com