Strawberry Pizza Recipe With Basil and Goat Cheese
Make This: Strawberry Pizza With Basil and Goat Cheese
In the mood for a savory strawberry pizza? Yes, you heard right — this pizza is not for dessert. I wanted to make something that took advantage of one of the season's best berry highlights without feeling like I was overloading on sugar, and this strawberry pizza — with basil, arugula, goat cheese, and prosciutto — fit the bill.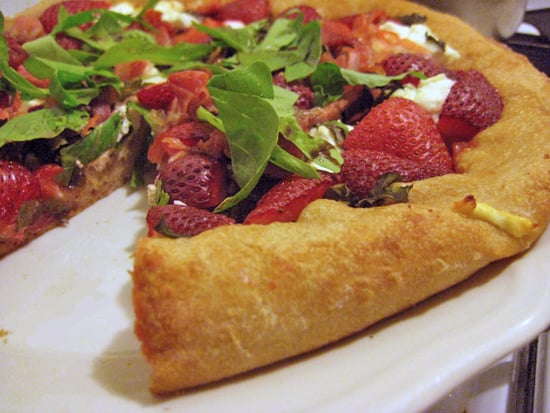 The strong flavors of all the savory ingredients complement the sweetness of the strawberries to make an easy healthy pizza that's a little unexpected. Of course, you can play around with proportions to your liking, like omitting the prosciutto and adding less goat cheese for an even healthier pizza (I found that the prosciutto added a nice salty counterpoint to the strawberries, but as with the goat cheese as well, a little goes a long way). Next time I'll roll my dough out to be a little thinner, but other than that I was pleasantly surprised!
Recipe For Strawberry Pizza With Basil and Goat Cheese
Inspired by Foodo Del Mundo
Ingredients
1.5 oz prosciutto (optional)
1/2 cup (about a handful) of basil, sliced or torn
3/4 cup strawberries, sliced
1 tablespoon olive oil
2 teaspoons balsamic vinegar
3 oz. goat cheese
1/2 cup of arugula, sliced
2 oz. whole wheat pizza dough (make your own or buy ready made, like at Trader Joe's)
Cracked black pepper
Directions
Preheat oven to 450. Lightly dust your work surface and dough with flour. Roll the dough out to about 12 to 14 inches around. With a pastry brush, lightly brush the crust with olive oil and 1 teaspoon of balsamic vinegar. Break apart goat cheese and dot pizza evenly with it. Bake in oven for about 5 minutes, then remove from oven and top with sliced strawberries, prosciutto, and basil. Bake for 5 to 10 more minutes until crust is nicely browned.
Once out of the oven, add sliced arugula leaves, and drizzle with the remaining 1 teaspoon of balsamic vinegar and sprinkle with black pepper. Makes eight slices.
Information
Category

Main Dishes

Cuisine

North American