Strength Training Exercises Using a Wall
Work It With a Wall: Two Moves to Sculpt Your Abs and Thighs
Common things you'd find in your home such as stairs, chairs, and benches make great props for workouts. If you're looking for more ways to exercise at home, here are two moves you can do using a wall.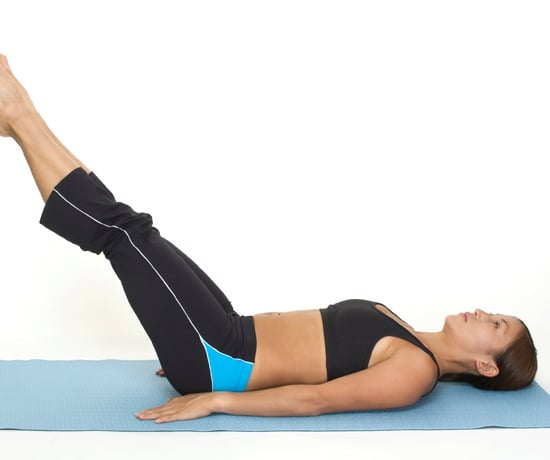 Wall Crunch
Begin lying on your back, so your legs can fully extend with the soles of your feet resting on a wall, hips-width distance apart. Your legs will create a 45-degree angle, but if this is too difficult, bend your knees slightly and lower your heels a few inches.
Prop yourself up so you're resting on your forearms. Engage your abs, keep your torso lifted, and bring your hands to rest on your outer thighs just above your knees. Keep your shoulders relaxed down, lift your chin slightly, and look up toward your feet.
Keep your hands where they are or extend your arms toward the wall. Hold your torso lifted in this position (keeping your feet flat on the wall) as you pump your arms up and down slowly next to your torso (similar to the Pilates 100). Hold your torso lifted as long as you can, and when you need a break, hold onto your outer thighs or lower your elbows onto the ground to take a rest.
Work your way up to three one-minute sets.
Wall Sit
This move targets your quads, hamstrings, and butt and is also an effective exercise to help prevent runner's knee.
Stand with your back against a wall, placing your feet about two feet out in front of you. Feet should be hips-width distance apart.
Bending your knees, slide your back down the wall until your knees are at 90-degree angles. Your knee joints should be over your ankle joints, so you may need to inch your feet further from the wall to create proper alignment. Don't let your knees fall in on the midline of your body or sway outward.
Hold for one minute, completing three reps.