Strength-Training Ideas For the Morning
Be Consistent: Marry Your Strength-Training to Your Morning Routine
Is your push-up routine as consistent as your morning shower? Working your muscles can be a hard habit to maintain, especially if you convince yourself you don't have time. An easy way to cross your strength-training routine off your to-do list: make it part of your daily morning or after-work routine. Sandwiching crunches in between teeth brushing and makeup application helps you move past the lack-of-time excuse — and helps you realize that results happen minutes at a time. Here are a few ideas for sticking with it by tying your strength training to your normal everyday routine.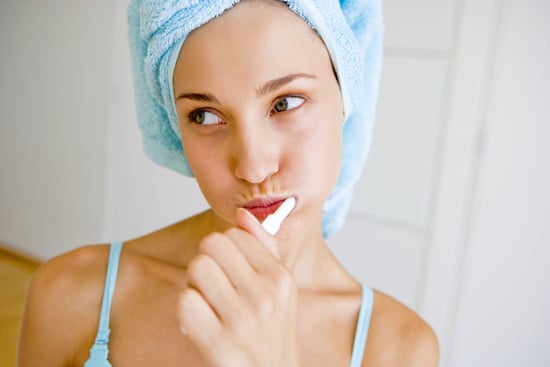 Do a minute of squats after you get out of bed to help tone your legs while waking yourself up as well. For tips on how to do the perfect squat, watch our video here.
Balance exercises help ensure that you maximize your strength-training results by maintaining correct form (and preventing injury). Multitask your morning bathroom routine by standing on one foot while you're brushing your teeth.
Increase your flexibility while showering with these stretches you can do in the shower.
Need to relax before you sleep? These yoga poses you can do in bed will not only prime you for bedtime but will also help tone, soothe overworked muscles, and increase flexibility.
Take the stairs back to your office after your lunch break. One minute of stair walking burns eight calories.
If you run in the morning, end your workout with the Pilates classic The Hundred to work your abs.
This 30-minute indoor circuit workout is easy to split up into manageable parts; repeat it twice in the morning (for a total of 12 minutes) and three times (18 minutes) after work.