Stretch to Prevent Plantar Fasciitis
Injury Prevention: Flex Your Feet to Avoid Plantar Fasciitis
All the stepping, jumping, and pounding that comes from living an active lifestyle — especially running — can cause damage to the plantar fascia, the thick band of tissue that covers and protects the bones on the bottom of your feet.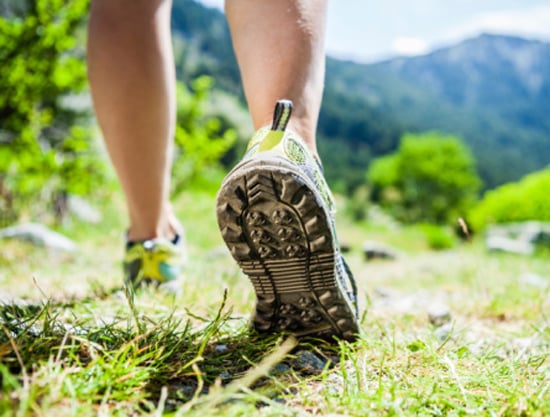 When put under too much stress, these tissues can tear, causing a painful condition called plantar fasciitis. These tears cause inflammation and scar tissue, which can make your feet even less flexible. To prevent this problem in the first place, stretch your plantar fascia regularly, so you can keep doing the activities you love.
Photo: POPSUGAR Studios
Sit down on a chair or bench. Bend your left leg and place your left ankle on your right knee.
Hold onto your left toes with your left hand and gently press your left toes to the right, so your foot is in a pointing position. Stay here for a few seconds.
Photo: POPSUGAR Studios
Then use your hand to pull your left toes to the left, flexing your foot.
Repeat this stretch 10 times and then do it with the other foot. Complete this stretch at least three times a day to experience the full benefits.