Stretches to Do on the Couch
Make the Most of Couch Time With These Healthy To-Dos
No matter how active you are, everyone can use some relaxing time on the couch. But time spent in front of the TV doesn't have to be spent lying down. Here's how you can incorporate your fitness routine to make the most of couch time.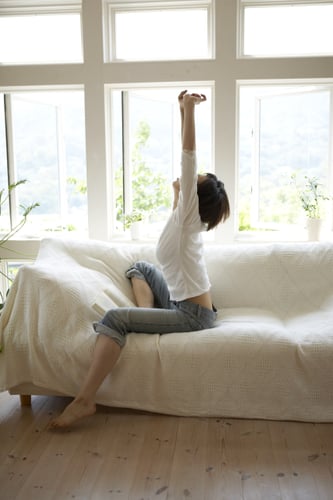 Roll: An active lifestyle can leave muscles constantly sore and tight. Rolling out knots can help, but it's not always on the agenda after a workout. That's why using a foam roller while you're in front of the TV is a good idea: you'll still be able to relax, all while massaging tired muscles and helping them repair. Watch our video on essential foam rolling moves that help massage your quads, IT bands, inner thighs, butt, and upper back.
Stretch: Much like foam rolling, stretching is an important part of a fitness routine that many people neglect. Enter couch time: you can stretch many joints and muscles without disrupting your TV-viewing enjoyment. This back- and ab-stretching pose, for example, may have you thinking you look ridiculous, but the results are effective. Incorporate some of these stretches for tight hips to further combat the effects of too much sitting.
Exercise: Feeling ambitious? These exercises will help tone a few muscle groups while you watch your favorite program. Using your couch to do tricep dips, for example, helps you target that hard-to-tone upper arm area, while doing the quadruped on your living room floor targets abs and butt. Learn how to do these couch exercises and more here.