Strike a Yoga Pose: One-Legged Bow
I love the holidays, but the rushing around stresses me out. I can feel my body collapsing forward into a scrooge-like hunch. Opening the front of my body with backbending pose feels like a gift to my tired spine. While the Bow pose doesn't have anything to do with presents, it's a wonderful stretch. Here's a variation that focuses on bending one leg at a time, which allows you to work on stretching out your chest and shoulders more effectively. It will strengthen your back too.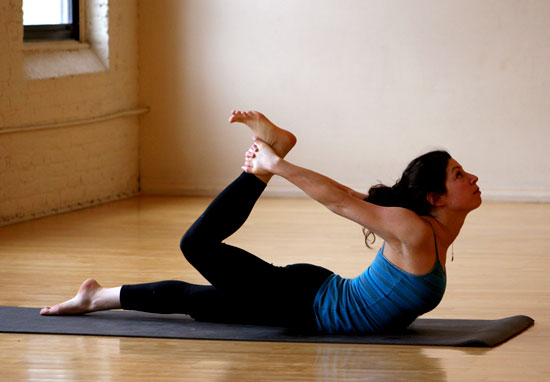 To learn my trick for getting into this pose read more.
Lie flat on your stomach, drawing your belly button toward your spine.
Interlace your hands behind you, bend your right knee, and hook your right foot in the hole your arms make. Clasp your hands around the front of your ankle. If it's too difficult to get into the pose this way, reach back with one hand at a time instead.
Actively press your left leg into the floor and push your right foot away from you. Both these actions will help give your torso a little more lift, which will increase flexibility in your back and chest.
Stay here for five deep breaths. Then keeping your hands interlaced, gently unhook your right foot, bend your left knee, and do this pose with the left leg lifted.