Study Says American Obesity Rates Have Hit a Plateau
Good News: We're Not Getting Any Fatter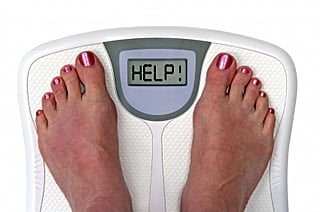 Obesity seems to have reached a state of crisis in the United States: it's more harmful than smoking, junk food is as addictive as heroin, and the latest wave of reality shows are all about helping people lose weight to save their lives. Here's the good news — according to new data from the Centers For Disease Control and Prevention (CDCP), obesity rates in America are not getting worse. But the bad news is that the rates have remained alarmingly high for the last decade.
To determine this obesity trend, in 2008 researchers collected the body mass index (BMI) of almost 6,000 adult men and women living in the United States. These numbers were then compared to prior data collected by the CDCP. According to the data, the percentage of obese adults in this country has been constant in the last decade at about 34 percent. In addition, 68 percent of adult Americans are considered overweight. (An adult who has a BMI between 25 and 29.9 is considered overweight. An adult who has a BMI of 30 or higher is considered obese.) Keep in mind that BMI is not the be-all and end-all of measuring a person's true health, and many argue it's a much too simplistic approach.
To hear what researchers think this data means,
.
When looking at the data, it's hard to know what these numbers truly mean. Researchers aren't sure if the stabilizing trend reflects a positive change in eating and exercise habits, or if the American population is literally unable to become any more overweight as a group:
Dr. Ludwig (director of the Optimal Weight for Life Program at Children's Hospital Boston) said the plateau might just suggest that "we've reached a biological limit" to how obese people could get. When people eat more, he said, at first they gain weight; then a growing share of the calories go "into maintaining and moving around that excess tissue," he continued, so that "a population doesn't keep getting heavier and heavier indefinitely."
Stable numbers or not, it's alarming to know that one-third of the American population may be obese — especially when you consider that the rate of obesity among this country's adults was only 17 percent 30 years ago. Being obese is not just a matter of shedding a few pounds to fit into a pair of jeans; it can be a matter of life and death. For those of you who are struggling with weight but have resolved to take control this year, know that we're all behind you. If you need any extra support or motivation to stay on track, join our Get Fit For 2010 community group — we're all rooting for you!