Study Says Exercise Promotes Brain Cell Growth
Exercise Your Way to Being Smarter, Study Says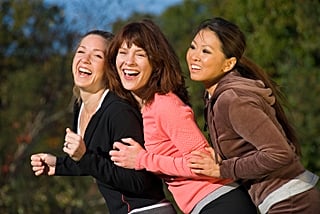 Turns out that exercise helps us grow more than impressive muscles — it can also help us grow new brain cells, according to a new study. The study also found, however, that loneliness can hinder the effects of exercise on the brain.
Investigators found that mice who lived together grew brain cells after exercising on running wheels, while the ones who were kept isolated and exercised did not. The scientists speculate that the lack of brain cell growth in isolated mice could be because the stress of being lonely releases hormones that reduce the rate of brain cell growth; while exercise also releases the same stress hormones, being social helps revert the negative effects.
While this is not the first time we've heard that exercise can make you smarter, the ability for daily exercise to promote brain cell growth is always good news for fitness fans, and the powerful effects of socializing are yet another reminder of the benefits of a good workout buddy (and not only that, a reminder to make time for the important people in your life)!